Right-arm pace bowling all-rounder Alauddin Babu became the fifth Bangladeshi bowler to score a hat-trick in T20 cricket. The 29-year-old pacer made the feat for Brothers Union against Legends of Rupganj in the first match of the day of the Dhaka Premier Cricket League at the Sher-e-Bangla Stadium in Mirpur today.
Alauddin Babu completed the hat-trick by dismissing Muktar Ali and Sohag Gazi in the last two balls of the 16th over of Rupganj innings and Nabil Samad in the first ball of the last over. His bowling analysis in the match was 4 for 21 in 3.1 overs. This is his best bowling performance in T20 cricket.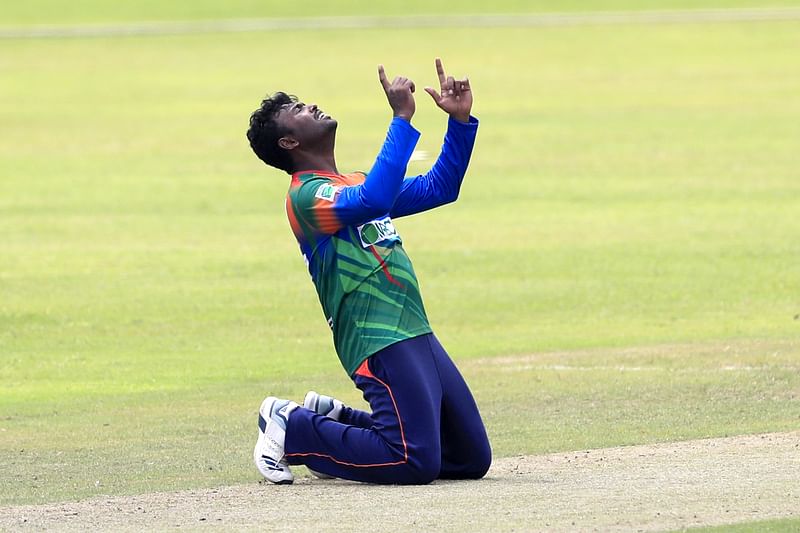 In the first over of Rupganj's innings, Babu fooled Ajmer Ahmed with a great inswinger. Junaid Siddique, who stood on the first slip, made no mistake in catching the ball that touched Ajmer's bat. Later in the death over, the medium pacer took three wickets in a row. Muktar Ali was caught by Naeem Islam Jr. in the fifth ball of the 16th over. Sohag Gazi caught Zahiduzzaman in the next ball. Alauddin scored a hat trick in the first ball of the last over of the innings. Batsman Nabil Samad's wrong timing goes to the sky. Mizanur Rahman took an easy catch in the point.
Rupganj was bowled out for 111 by Alauddin Babu's hat-trick. Captain Naeem Islam's 37 runs was the highest for the team that won the toss and elected to bat. Besides, 23 runs came from Sabbir Rahman's bat.
Hat-trick of Bangladeshi bowlers in the recognized T20
Bowler

Match

Venue

Season

Al Amin Hossain

BCB XI-Abahani

Sylhet

2013–14

Al Amin Hossain

Barisal Bulls-Sylhet Superstars

Mirpur

2015–16

Alice Al Islam

Dhaka Dynamites – Rangpur Riders

Mirpur

2018–19

Manik Khan

Doleshwar-BKSP

Fatullah

2018–19

Kamrul Islam

Fortune Barisal – Minister Rajshahi

Mirpur

2020–21

Alauddin Babu

Brothers-Rupganj