As soon as I climbed to the right on the second floor of Kushtia General Hospital, I saw a banner. It is written in big letters – Corona Word. Two young men were sitting in front. Both of them are Chhatra League workers. One of them is Sheikh Salman. At the initiative of the district BCL, 35 of their volunteers have been providing various services to the corona patients for a year and a half. Going inside to see how the corona patients of Kushtia are getting treatment in the corona ward of the hospital. Salman assisted in this work. While working as a volunteer, all the places in the ward became known to him.
As soon as he entered the ward on Thursday morning with special caution, he saw five patients lying on the floor receiving treatment. A few rooms inside the ward. One of the rooms has air-conditioned central oxygen supply. I went to the room and saw a middle-aged man named Abdul Barik sitting on the floor between the two beds. Are you sick The answer was 'no'. He said, 'There are three patients in three beds. One of them is my wife, the other two are daughters. I have been spending seven days in this corona ward with three members of my family. Wife Nabiran (50), two daughters Nur Jahan (26) and Jannatul (18) are lying in bed. Nur Jahan's oxygen is running.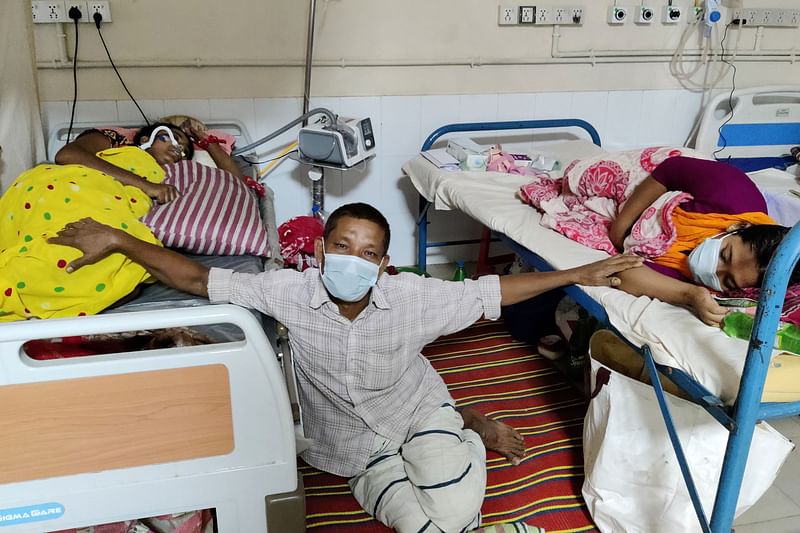 Asked about the medical system at the hospital, Abdul Barik said, "It provides good services. Medicines are available. Doctors and nurses all came to inquire. But when I go home, I can't sleep thinking about that. I want to recover my three family members and return home soon. '
Hospital sources said the Kushtia General Hospital has a 38-bed corona ward with 250 beds. However, 46 patients were admitted in this ward on this day. A few extra beds have been taken inside the ward. The rest are being treated on the floor. Central oxygen can be supplied to ten people at once. There are hundreds of oxygen cylinders. There are 14 high flow nasal cannula (HFNC).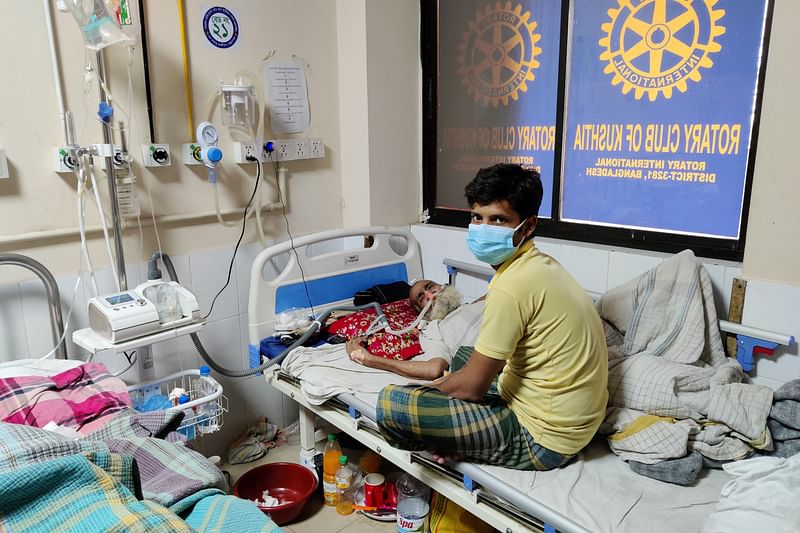 An 80-year-old man is receiving treatment in the central oxygen supply room. His name is Mokammel Hossain. He is being given oxygen all the time. The old man's grandson Mahbub is sitting by the bed. He said his grandfather's condition was not good. Doctors are trying. However, it may be taken elsewhere in a day or two for better treatment.
As soon as he left the room, two nurses went to the patients and gave them the necessary medicine. One of them is Jerin Akhter. Jerin has been working in this corona ward for over a year. After working six-hour shifts, he returned home. However, working in Corona Ward, he has not yet been affected by Corona. When asked how he feels, Jerin replied, 'I have taken a job as a nurse to provide services. I am doing that. But there is a little fear.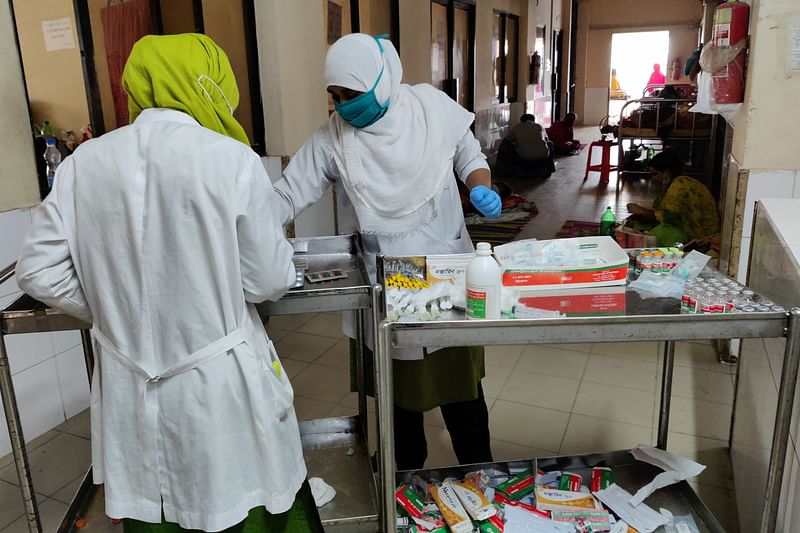 Patients admitted to three more rooms in this ward are receiving services. Relatives of some of them came and inquired. Someone searched on the phone again. A man named Mahbub Hasan was found in front of the ward. His relative Abdul Mannan was admitted to Corona Ward. If attacked at home, he was rushed to the hospital and given oxygen support. It makes him feel healthy. He said he was satisfied with the overall management of the hospital.
The veranda to go to other wards in front of Corona ward. Even non-covid patients are lying on the floor in front of the ward. There is a fear that they will be affected by corona. They are also a little scared about this. Meanwhile, more patients are being admitted to the hospital every day than before. The hospital authorities are a little worried about this. Superintendent Abdul Mannan and medical expert ASM Musak Kabir appeared in front of Corona Ward around 10 am. They are preparing another ward as the corona ward has been admitted to 'positive' patients.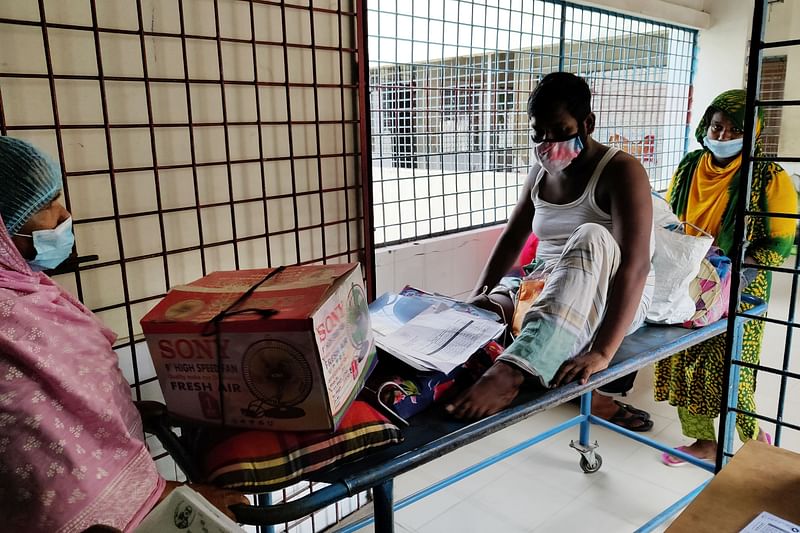 There is one MBBS doctor in Corona ward every 24 hours. In addition, there are the required number of nurses. They work in three shifts. In addition, six specialist doctors took turns to go to Corona Ward. There are allegations that two or three of these specialist doctors do not enter the corona ward. They listen to the problems of the patients on their mobile phones and provide services. But medicine expert ASM Musa Kabir is an exception. He himself went to the corona ward and went to the patient and gave the prescription after hearing the problem. He was rushed to hospital late at night in a very urgent call. ASM Musa Kabir said the corona ward was crammed with patients. There are no empty beds. The situation is not good. Can be more frightening if not controlled. Doctors and nurses will struggle to provide services.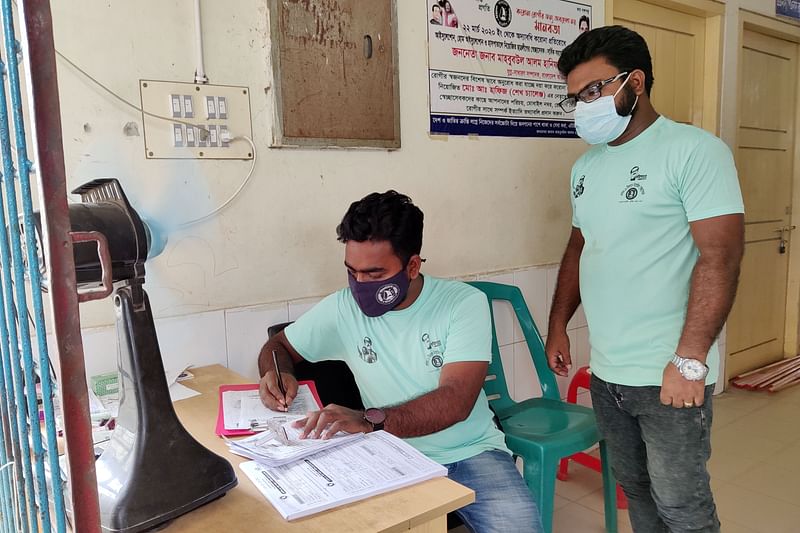 The hospital's residential medical officer (RMO) Tapas Kumar Sarkar said there is another observation ward besides the corona ward. There are 18 people admitted there. If their antigen is tested positive, they are taken to the corona ward. The Corona Ward has four Level One ICU beds. However, they are not full ICU.
Abdul Momen, the caretaker of the hospital, said the 250-bed hospital currently has 600 patients. There are 46 Kovid patients admitted on it. Although there are doctors and nurses, there is a big problem of infrastructure. Corona is currently struggling to cope with the situation. 12 specialist doctors have been rostered. They will also be supervised. However, if the corona patient admission rate increases in the future, the admission of other patients may be reduced.